Main information:
Schleißheim New Palace
Large Gallery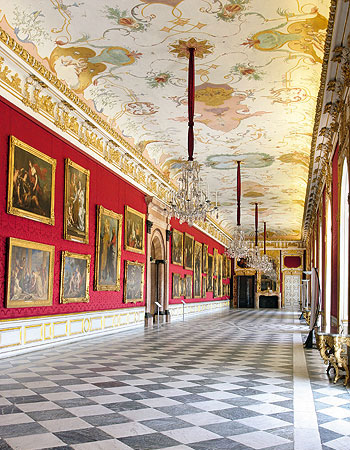 The impressive sequence of halls culminates in the Large Gallery. The 57-metre picture gallery was modelled on the famous Grande Galérie in the Paris Louvre, the former French royal palace.
From the gallery there is access to the two most important apartments, the elector's on the south side and the electress's on the north side. Since all the main doors of the two main apartments are aligned to form an enfilade, when they are all open there is a uninterrupted view through 160 metres of rooms.
Eleven high windows open from the Large Gallery onto the garden. Grotesques by Johann Paul Waxschlunger with birds, fruits and sea motifs are painted in the window embrasures, and the ceiling is decorated with grotesques by Nikolaus Gottfried Stuber. The coloured scenes against a gold background on the ceiling are by Jacopo Amigoni.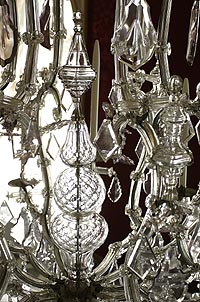 Glass chandelier, detail
Five precious rococo chandeliers, around 1.70 meters high and made of Bohemian glass, and six carved console tables, all items from the time of Max Emanuel, complete this magnificent interior. The chandeliers have been part of the Large Gallery's furnishings since the mid-18th century, when they were purchased by Elector Max III Joseph in Vienna.
Chandeliers richly hung with glass were a great luxury in this period. They were reserved exclusively for the festival halls and were only lit on special occasions. The Schleißheim chandeliers, dating from around 1750, are very early, particularly magnificent examples of their kind.
The walls of the Large Gallery were originally decorated with the best paintings from a valuable art collection in carved gilt frames purchased by Max Emanuel in Brussels. Today the gallery contains important works by Flemish and Italian masters from the Bavarian State Collection of Paintings in Munich, including works by Peter Paul Rubens.
---
| top |