Main information:
Schleißheim New Palace
Elector's Apartment (Rooms 6-11)
The Elector's Apartment is in white and gold, the most important ceremonial colours, with red as the dominant colour of the room textiles: it was thus also known as the "Red Apartment". It was created under the direction of Joseph Effner.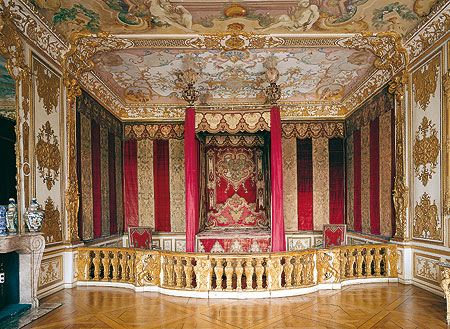 Since the patron, Max Emanuel, died shortly before completion of the interior decoration in February 1726, he probably never used it. His son Karl Albrecht added a number of items to the furnishing. As the state apartment of the greatest ceremonial importance, it was always maintained in a particularly good condition.
Wall hangings in the form of tapestries played an important part in the decoration of Schleißheim, and included series from Brussels as well as products from the Second Munich Tapestry Manufactory, which had been refounded by Max Emanuel. In three of the four main apartments, the antechambers and audience rooms were hung with tapestries; and in Max Emanuel's apartment they still cover the entire wall space. The rooms not only still have their original stucco-work ornamentation, ceiling paintings, doors and panelling, but also the original parquet flooring, which is laid out in the so-called "Versailles" pattern.
---
| top |