Main information:
Schleißheim New Palace
State bedroom in the Elector's Apartment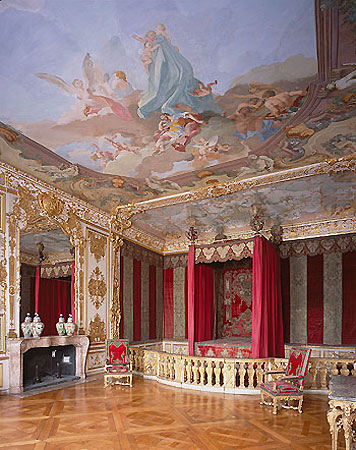 In keeping with its supreme function in court ceremony, the State Bedroom is the most luxurious room of all. A carved balustrade, decorated with the Bavarian lion, divides the room into the area for the court and the bed alcove of the elector. The dado and wall panels are filled with elaborate, beautifully executed ornamental carving, while the alcove is decorated with magnificent textiles.
The ceiling picture of the sleeping Mars by Jacopo Amigoni (1723) is a reference to the patron, who as a battle-weary warrior has lain down to rest. Almost all the furnishing of the State Bedroom is original. The state bed of Elector Max Emanuel, made of red silk velvet with magnificent gilt relief embroidery, is thus a rare example of a late baroque four-poster bed that has been preserved virtually intact.
| top |