Main information:
Schleißheim New Palace
Electress's Apartment (Rooms 17-21)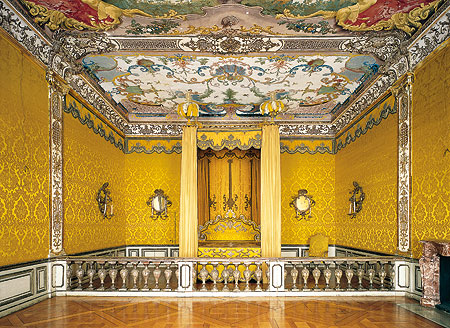 On the north side of the Large Gallery is the Electress's Apartment, the so-called "Yellow Apartment". Since after the end of Max Emanuel's long exile in 1715 the electress Therese Kunigunde mainly resided elsewhere, the apartment designed for her was not used again until it had been gradually extended for her daughter-in-law Maria Amalia, who became electress in 1726. It was also used by Maria Anna, the wife of Elector Max III Joseph.
By contrast with the elector's rooms, the ornamentation here is silvered, and the panels are painted a light blue-grey. The room textiles were always yellow. These rooms, gradually decorated between 1722 and 1726 with additional changes made in 1730, were designed by Joseph Effner.
---
| top |