Main information:
Schleißheim New Palace
Room with model of the palace
The large palace model was commissioned by Elector Max Emanuel, constructed out of wood in 1725 under the supervision of Joseph Effner and painted by Nikolaus Gottfried Stuber.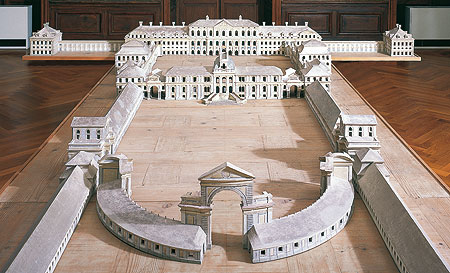 Model of Schleißheim palace made of wood, produced in 1725 for
Max Emanuel under the supervision of Joseph Effner
It represents the last development project for Schleißheim, when a final attempt was made to connect the New Palace by means of galleries and subsidiary buildings with the Old Palace. Here the old intermediate tract with the clock tower has been dropped, and the west tracts used for agricultural purposes are separated off by means of semicircular buildings with a backdrop function. The Old Palace has been altered in the baroque style.
The portraits of the court architect Joseph Effner and his wife Maria-Magdalena, painted in around 1720/21 by Effner's fellow-artist at Schleißheim, Jacopo Amigoni, were purchased by the Bavarian Palace Department with the support of the Cultural Foundation of the German States and the Ernst von Siemens Art Foundation.
| top |