Main information:
Schleißheim New Palace
Oratory with a view of St Maximilian's Chapel
St Maximilian's Chapel, which is only accessible during events, can be viewed from the Oratory.
St Maximilian's Chapel, or the Large Chapel, was begun in 1720. On 7.12.1724 it was consecrated to St Maximilian, the patron saint of Max Emanuel. The chapel oratories on the upper floor were directly accessible from Max Emanuel's State Bedroom and the windows on the ground floor opened onto the neighbouring "Oratory Rooms" of the Green Apartment.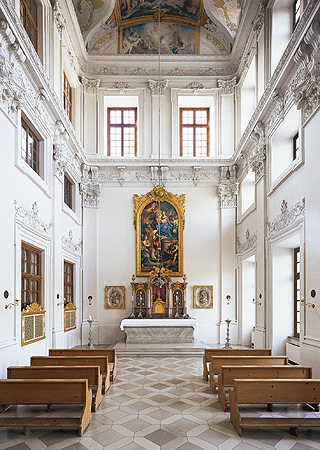 The barrel vault of the chapel was painted by Cosmas Damian Asam and shows the "Glory of St Maximilian", together with subsidiary scenes depicting the giving of alms and the martyrdom of the saint. In 1945, the painting was badly damaged when the neighbouring rooms were hit by bombs, and had to be extensively restored.
Asam's painting on the end wall of St Maximilian as helper and comforter of the sick has on the other hand been well preserved.
Several altar designs and models were produced from 1723 and columns were even supplied, but the work remained incomplete. Only the mensa (renovated in 1974) was built and the large marbled tabernacle from the workshop of Johann Adam Pichler, with reliquaries on either side.
Pichler also made the magnificent frame for the altar picture, which was commissioned specially for this room from Sebastiano Conca in Rome and today hangs on the wall above the altar. It depicts "St Maximilian as intercessor before the Virgin Mary".
| top |