Main information:
Schleißheim New Palace
Antechamber in the Elector's Apartment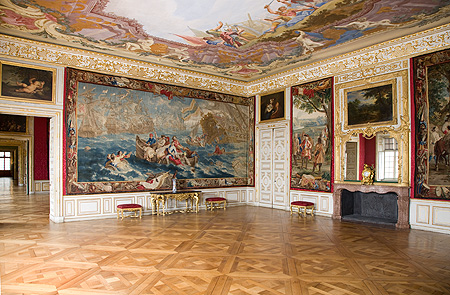 The valuable sequence of tapestries with battle scenes was ordered by Max Emanuel in Brussels for the Antechamber and Audience Room of his apartment in Schleißheim, and is hence known as the "Schleißheim Series".
The tapestries, in splendid colours and with great attention to detail, depict war episodes of a general nature, in some of which the Bavarian elector Max Emanuel makes an appearance, as on the narrow tapestry next to the fireplace. Some of them originated as a series made for the Duke of Marlborough's Blenheim Castle, in which he celebrated his victories over Max Emanuel in the Spanish War of Succession. The tapestry maker Judocus de Vos supplied them almost exactly as they were to the defeated Bavarian elector, merely replacing the portraits of the English duke with portraits of Max Emanuel.
| top |