Main information:
Lustheim Palace
Pavilions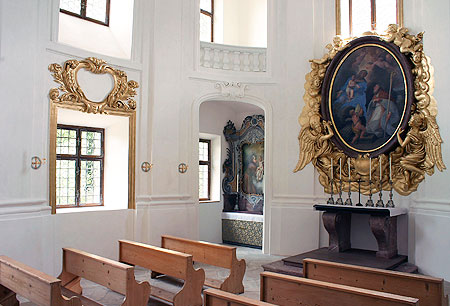 Southern Pavilion with Renatus Chapel
The two Lustheim pavilions are artistic achievements on a par with the palace itself.
The Southern Pavilion with the Renatus Chapel was designed by the court architect Henrico Zuccalli for Elector Max Emanuel and begun in 1686. The chapel replaced the old Renatus Hermitage built for Duke Wilhelm V (reigned 1579-98), which was pulled down in 1684 to make way for Lustheim Palace. A masterpiece of Bavarian high baroque architecture, the chapel was dedicated to St Renatus, the patron saint of Wilhelm's wife Renata von Lothringen in 1688.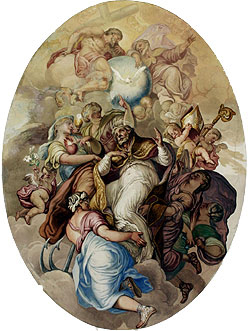 The impressive oval interior of the chapel and the altar framed with stucco angels which seem to be bearing the altar picture upwards are based on the work of the great baroque architect Giovanni Lorenzo Bernini in Rome.
The dome fresco of the "Glorification of St Renatus" is by Johann Anton Gumpp, the altar picture of "St Renatus before the Virgin Mary" by Giovanni Trubillio. The oval chapel was a source of inspiration for numerous artists in the South German baroque era.
Constructional renovation of the southern Lustheim Pavilion was begun in 1995, and restoration of the chapel as it was in 1689 was completed in 2004. The plaster and paint of the ochre and white outer façades is almost all original.
Northern Pavilion with "Beautiful Stable"
The Northern Pavilion, referred to in the sources as the "so-called stable", was commissioned by Elector Max Emanuel as a pendant to the Southern Pavilion with the Renatus Chapel and begun in 1689 from a design by Henrico Zuccalli.
The large hall with a shallow vault on the ground floor, which for a time was used as a stable for thoroughbred riding horses, is completely covered with frescoes. The walls are painted with elaborate trompe-l'oeuil pilasters, windows and statue niches. On the ceiling morning, midday and evening are symbolized by the figures of Aurora, Apollo and Diana, which are attributed to Caspar Gottfried Stuber. The markings on the stone floor indicate the former use of the hall as a stable for 16 horses, the opposite of what might be expected from the elaborate decoration.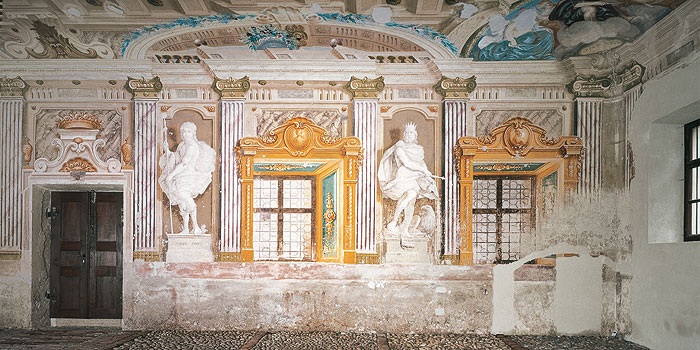 Conservation work and stabilization of the climate was completed in 2004 in the main room of the Northern Pavilion, which had not been used as a stable since the 18th century and was in a very neglected condition. Because of the highly sensitive microclimate resulting from the salination of the walls, access to the Beautiful Stable is limited and it can only be viewed in the summer months through a windscreen.