Main information:
Information for visitors
Further sights
In addition to the Schleißheim palace complex, a further place of interest administered by the Bavarian Palace Administration in the area north of Munich is the palace and court garden of Dachau.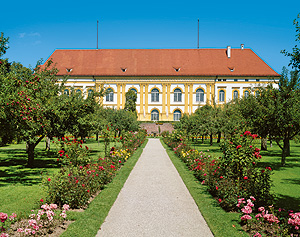 Dachau Palace, garden façade
Dachau is located on a hill above the river Amper, once the site of a castle which in the late 12th century passed from the Counts of Dachau to the ruling Wittelsbach family.
In the 16th century it became the favourite country residence of the Munich court. It was easy to get to from Munich, and attractive because of its hilltop location with the view over the countryside as far as the Alps. From 1546 on, during the time of Wilhelm IV (reigned 1508-1550) and Albrecht V (reigned 1550-1579), the building was transformed into a massive four-winged complex.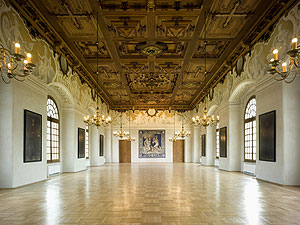 Dachau Palace, Banqueting Hall
The Banqueting Hall tract that can still be seen today was inserted between the existing wings. The outstanding feature of the hall is the coffered ceiling, created by the Munich artist Hans Wisreutter in 1564 to 1566. The wooden Renaissance ceiling is one of the most important of its kind in southern Germany.
At the same time Duke Albrecht ordered a series of tapestries featuring the deeds of Hercules from Michel de Bos in Antwerp to decorate the walls.
The first major change to the Festival Hall took place in around 1610, when the tapestries were transferred to the Munich Residence. They were replaced by a gallery containing numerous portraits of members of the Bavarian ruling house and their relations.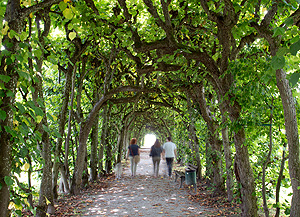 Linden pergola
From 1806 to 1809, three-quarters of the palace was pulled down. Only the hall tract remained, which had been redesigned in the baroque style, and was now used for storage purposes. The wooden hall ceiling was only preserved through being transferred in 1868 to the newly-founded Bavarian National Museum. After the end of the Second World War it was decided that the ceiling should be returned; but it was not until March 1979 that the reinstalled wooden ceiling was finally presented to the public.
In the Dachau Court Garden, old garden walls, an almost 280-year-old linden pergola, an orchard and a small woodland area in which various amusements were originally installed, reflect the successive epochs of garden design.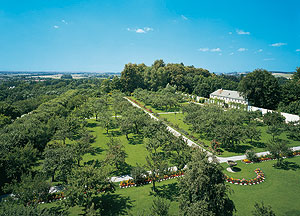 Dachau Court Garden
From the 16th century on the garden underwent many changes; the original walled Renaissance garden with geometric flower and herb beds was transformed into a baroque ornamental parterre with clipped box trees, and at the beginning of the 19th century, under King Maximilian I Joseph, this in turn became the present orchard.
The garden is particularly attractive through its position on a high ridge at the edge of a hilly region formed in the Tertiary period.
| top |